Rachelle Juter.
This is our profile on Rachelle Juter. Scroll even further down to find works by this artist.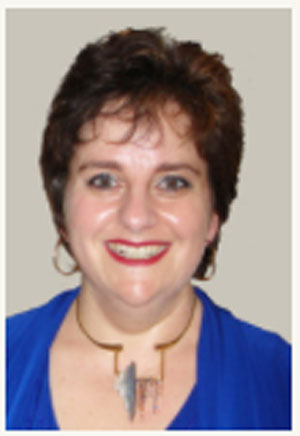 Rachelle
Rachelle has been a qualified jeweler and designer for more than 20 years, completing her training in design, manufacture, gemology, photography, jewelry drawing and rendering, as well as teaching.
Both Rachelle's grandfather and father were jewelers, and so she has a strong tie to her heritage in the field. Whilst still at school, she did work experience at a manufacturing jewelry company in the city and the smells and feel of the dust and tools in her hands felt so "right" that she never looked back.

Initially working and completing her apprenticeship in Paddington and Surry Hills, making jewelry for commercial stores such as Percy Marks and Fairfax and Roberts, Rachelle moved out into the solo jewelry world with offices in the Dymocks building in the city. From there, she moved her private workshop to Turramurra where she is currently located today.
Rachelle has won numerous major national jewelry awards including the Apprentice of the Year' Awards and Jewelers Association of Australia Excellence in Design and Manufacture.
She has also been recognised by prestigious DeBeers International by winning an award in their International Diamond Awards . The Gemological Association of Australia also awarded Rachelle a major Australian Gemstone Jewelry award.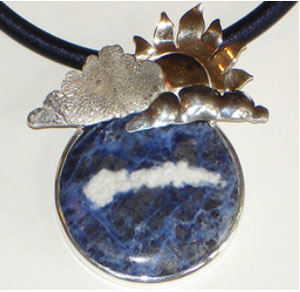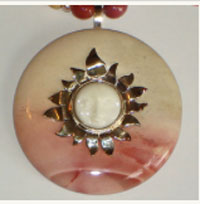 Since 2008, Rachelle has won the People's Choice Award 5 out of 6 times at the North Shore Craft Group annual exhibition. Her work is held in many collections around Australia as well as overseas, with some extremely notable clients such as Her Excellency, Professor Marie Bashir AC CVO, and Governor of NSW.
Previously Rachelle worked in the commercial jewelry trade but today primarily focuses on commissions for private clients who appreciate her work, and exhibition work producing a limited range of unique handmade, one-off pieces using a very wide variety of gemstones, 18ct and 9ct gold or silver or even copper to complement the designs. The most regular work she is doing at the moment is remodeling old jewelry into new exciting bespoke pieces for their owners. Her work is inspired by form, nature, and linear flow and development. The gemstones she uses and the textures that they have are also a major factor influencing the design of her jewelry. Ranging from very simple and affordable to far more complex and involved designs which are in a much higher price range Rachelle Juters' jewelry is aesthetically pleasing, infinitely wearable and highly sought after.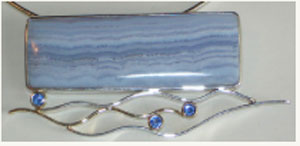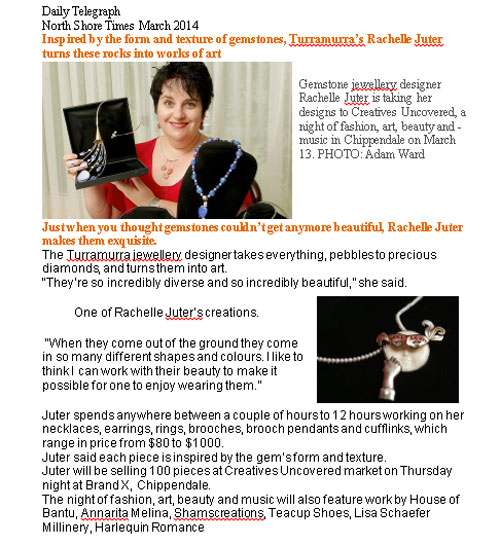 There are many other artists profiles on the site. Why not take a look...

our facebook page