Carol Gill.
This is our profile on Carol Gill. Scroll even further down to find works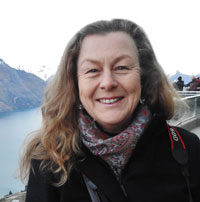 Carol
Carol Gill
I live and work at Lyrebird Gully Studio in Webbs Creek NSW where I am surrounded by the natural beauty of the glorious Hawkesbury sandstone escarpments and its deep serpentine rivers.
I studied Fine Arts at Hornsby and Graphic Design at Randwick TAFE colleges in the 70's. Inspired by the posters of the Post Impressionists era and the classical ink drawings of Asia I developed my love for drawing and making gestural marks.
I began my art career as a Graphic Designer spending my early years in advertising. Developing my art practice in this era meant the icons of the 70s-80s like Brett Whitely, Ken Done and Jenny Kee also heavily influenced my graphic view of the world. I enjoyed the simplicity of their shapes and bold panels of colour and the idea that they had just dashed something onto paper with their brush. In later years I rediscovered my art through workshops and further study where I was introduced to mixed media and collage.
I have been a keen bushwalker and take great pleasure in being outside. I always take inspiration from the natural landscape and in turn these later become my bodies of works. Using photography and creating graphite or gouache field sketches as a foundation, I collect my ideas outdoors and then transform them into vibrant and dynamic artworks in my studio.
I use a wide range of traditional Korean mulberry papers or "hanji", tissue papers, water colours and gouache and love the way they respond and react with one another. I am enthralled by the textures and organic materials of the hanji papers and their relationship to the natural landscape from which they have been sourced. I enjoy bringing the beautifully delicate yet strong qualities of hanji to a very contemporary Australian theme.
---
Solo exhibitions:
Putting down Roots- St Albans Gallery NSW 2002
Along the French Line- Sassafras Creek Gallery Kurrajong NSW 2012
Rock Gardens- Rosebank Guesthouse-Art Gallery Millthorpe NSW 2016
---
Duo exhibitions:
Confluence- Art Studios Gallery North Gosford NSW 2017 with ceramicist Nicola Coady
Shifting Perspectives- Gallery 503 Lilyfield 2018 with artist Penelope Oates
---
Group exhibitions:
Women of St Albans exhibitions from 2002-2010
Hawkesbury Regional Gallery Art Fair 2015 and 2017
Hawkesbury Art Trail 2017
Ferry Artists Gallery Wisemans Ferry -ongoing from 2009
Rosebank Art Gallery Guesthouse Millthorpe -ongoing from 2013
I have numerous commissioned artworks in private homes around Australia and overseas.
Sentinel in Barkandji Country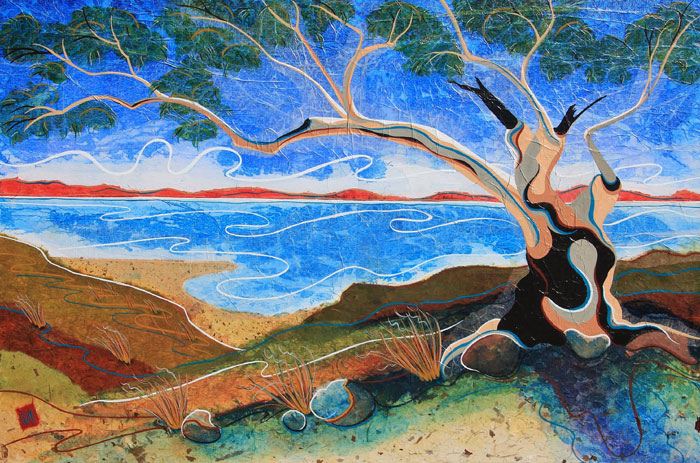 You can contact me via my website,
or...
There are many other artists profiles on the site. Why not take a look...

our facebook page