Kit Ferry.
This is our profile on Kit Ferry. Scroll even further down to find works

Kit
Glass
Qualified High Schoolteacher -taught at Bede Grammar School in Sunderland, Co Durham, (UK). Involved in High School teaching capacity in many crafts as well as History and Biology specialist.
Studied three years with Master Potter (Ron Mottram) in Sunderland Art College (UK).
Have run pottery and craft clubs in many schools during the years for both children and adults. Lectured to Youth Leaders taking part in the Training Courses for UK Youth Clubs. Migrated to Australia in Feb 1974.
Opened a teaching studio in Sandringham Vic. in 1976 teaching aspects of manufacture and decoration of slipcase pottery pieces and clay hand building.
Learned and taught lead lighting. Designed for Semco and exhibited tapestry canvases in the Melbourne City ANZ Bank. Was a member of the Black Rock Craft Group having regular exhibitions of multi craft items in Melbourne City and surrounding suburbia. Moved to Sydney January 1982 June 1982 – 1997.
Operated a craft-teaching studio in Cherrybrook NSW. Manufacture and decoration of slipcast china figurines in Porcelain and other clays. Handbuilding and decoration using pottery clays. Manufacture and decoration of Porcelain Dolls. Decoupage. Glass Forming and decoration, Folk Art painting. My students and I won many prizes in open competitions.
Committee member of NSW Ceramic Art Association for a many years and was involved in the formation of the Judges Education Program for NSW. Completed certification and attained Master Judge status for the American International Ceramic Association and the Ceramic Art Association of Australia.
Have regularly judged at Gosford, Newcastle, Melbourne, Hawkesbury and Sydney Ceramic shows and was an invited Judge at the RAS for two years running.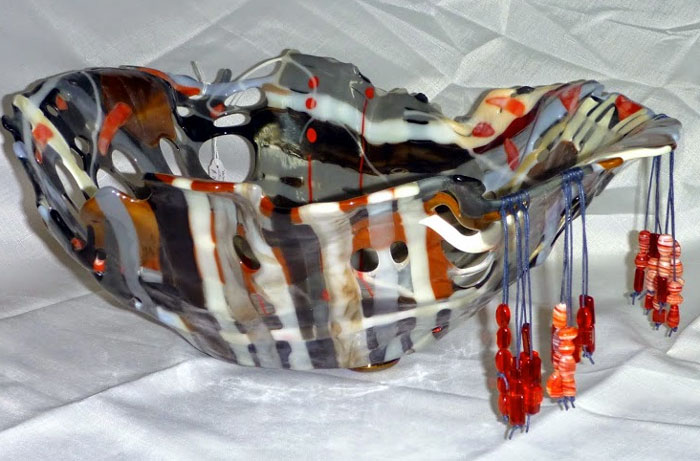 Other Milestones:
Judged for the Decoupage Guild of NSW
1988 - 1993 Owned and operated Jabiru Porcelain P/L manufacturing fine quality, hand made, Australian flora and fauna, in porcelain.
Authored articles in pottery magazines
Participated in many and varied courses in all aspects of warm glass, glass bead making and silver smiting 1997
Sold studio and was able to indulge my addiction in cutting, fusing and slumping glass sheets and glass bead making as "Gemini Glass Art" 2001- 2008
Continued teaching small groups of students glass work.
Produced fused glass panels for corporate commissions and for selected art galleries. Exhibited at APAT convention Oct 2003 at Darling Harbour also at Noosa Art fest Nov 2003 and with the Arcadian Artists for the last few years. 2008 - Current
Experimented with fusing porcelain faces with diachroic glass to form elements of picture series entitled "Cabaret" and "Masquerade"
Produced multi coloured and multilayered glass bowls and platters.
Experimented with "pulled glass tendrils" to form new series of "Cartoon Faces"
2009 joined Ferry Artists gallery at Wisemans Ferry in NSW permanently exhibiting her work.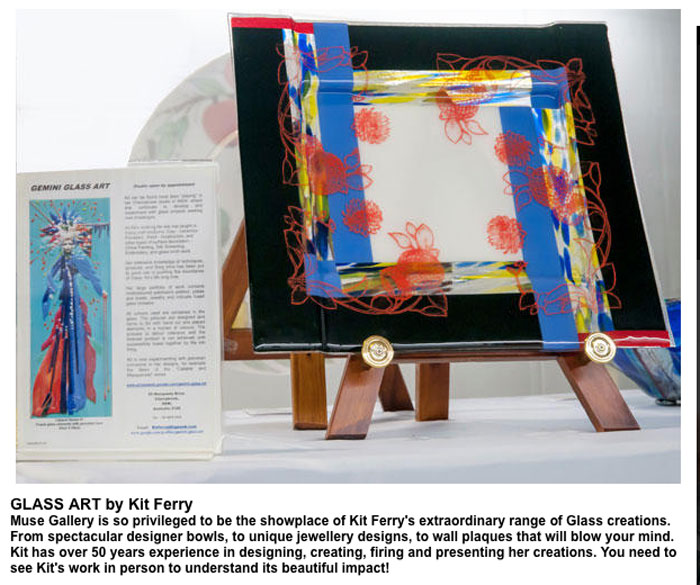 Kit Ferry on Google Plus
There are many other artists profiles on the site. Why not take a look...

our facebook page