Veronica Everson.
This is our profile on Veronica Everson. Scroll even further down to find works by this artist.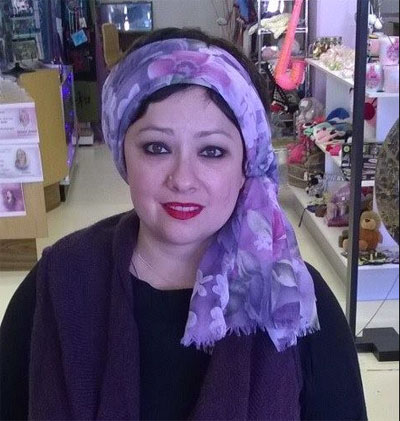 Veronica
I am Ukrainian born Australian artisan who lives in Sydney with my husband, son and dog Montgomery.
I studied architecture and ceramics but chose to express myself in the making of jewelry.
From beautiful hand painted polymer clay pendants and exquisite knitted sculptural necklaces to quirky memory wire bracelets, which have a great feel to it and truly are wearable art.
In 2013 one of my knitted collars had won an award at the Sydney Royal Easter Show.
Divine Hedgehog Art Creations was born out of my sons Year 1 Christmas art project. I was helping the teacher to make something special and different. That is how I discovered that the handmade clay my friends and I used the 1980's to make little brooches and earrings with roses on it Porcelain Fria or Cold Porcelain is well-known South American craft media used to make ornaments, jewelry, cake toppers etc.
So that Christmas Year 1 made beautiful ginger bread men ornaments and I'd started my exiting experiments with Cold Porcelain. Having studied drawing and ceramics helped too.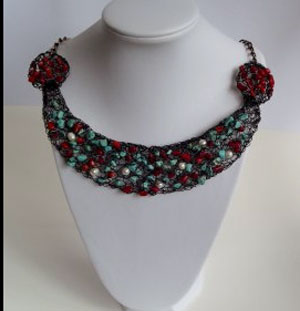 Dream Catcher 2
I've learned a lot since then, made and sold lots of my beautiful pendants, set up web-store and started attending various craft markets. After a few very successful markets I had an idea to add hand knitted jewelry to my repertoire and what a great decision it was!
I was born into very creative family. My mum and both grandmas always were sewing, knitting or crocheting.
I don't think my mum ever sat through a movie without making or mending something. I've learned how to knit and crochet at the very young age. Knitting, making my own designs of jumpers, scarves and vests had been my creative outlet for many years. So making knitted and crochet pieces was very natural choice for Divine hedgehog at is how my Enchanted wearable art line came to life. From simple earrings and necklaces to glamorous cuffs and collars adorned with semi precious stones beads. I love using pearls, garnets, corals amethyst and fluorite: it gives my pieces that luxurious look. As with my Cold Porcelain pendants there no two pieces exactly the same.
My inspiration comes from my family and friends, nature and quiet days with a good book.
The most rewarding part is that my art makes someone wearing it feel special and beautiful and it is Divine Hedgehogs honor and privilege to continue to do so
You gain strength, courage and confidence by every experience in which you really stop to look fear in the face. – Eleanor Roosevelt This unique necklace/collar knitted out of black wire and adorned by 90 semi-precious stones: corals, pearls and turquoise, 63cm with the chain(27cm knitted part)long, 4cm wide, finished with lobster clasp and bronze chain which can be adjusted to your liking.
There are many other artists profiles on the site. Why not take a look...
Other useful links:

our facebook page