Nicola Coady.
This is our profile on Nicola Coady. Scroll even further down to find works by this artist.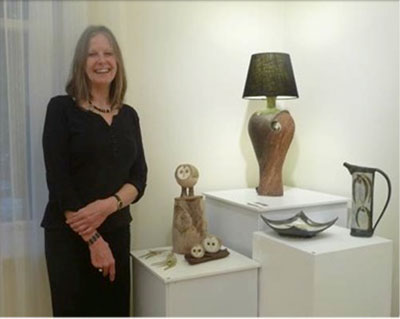 Nicola
"From the rolling hills of Devon, the vast veldt of Africa, to the weathered shores of Australia, my forms have emerged".
Arriving in Australia in the late 60's, I was immediately taken by the eroded sandstone foreshores and flora and fauna. Having canoed many times up the River Dart, England, where I experienced my formative years and walking along the cliffs collecting primroses and bluebells overlooking the English Channel, I was acutely aware of the beauty of nature.
The opportunity arose for me to get my hands on clay and I never looked back. Once my two sons started school I enrolled in TAFE at Brookvale and completed a 4 year part time Diploma Course, graduating in 1986. On graduating I was approached to teach at the Ku-ring-gai Art Centre in Roseville, which I did for 26 years finishing with 3 adult classes and a children's class, only last year.
I have been a member of the Ceramic Study Group since the 80's and have just finished being President of the group for the last four years.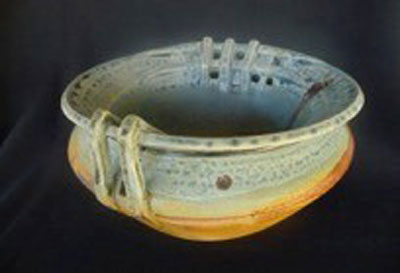 Last year was our 50th year and I organised several exhibitions of members' work and part of our Permanent Collection at various venues, as well as getting several well- known Australian potters to demonstrate/present at our monthly meetings e.g. Grey Daly, Victor Greenaway and Chester Nealie. I am also a member of the North Shore Craft Group since the late 80's and we hold 2 Exhibitions a year at various venues on the North Shore, as well as being a member of "The Ceramics Association" of Australia.
I have been invited and exhibited all over Australia and my work has been acknowledged by winning 14 awards at different times. Lloyd Reece judged one of the awards in the late 70's at the Lane Cove Annual Art Exhibition, which, I think, gave me the impetus to keep potting. I have had several solo Exhibitions, one being opened by John Doyle, entitled Reflections.
Over the past few years, my love of texture, drew me to experiment with crystalline glaze which I'm still working on, as it has a certain illusiveness and depth which I'm still intrigued by.
I mainly work with stoneware and porcelain clay bodies and fire in my electric, gas and sometimes raku kilns. I also have access to a wood fired kiln in the winter months, which adds another dimension to the forms and aesthetics desired.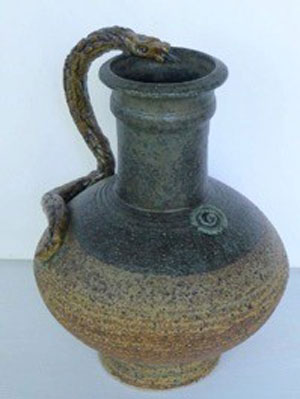 There are many other artists profiles on the site. Why not take a look...

our facebook page